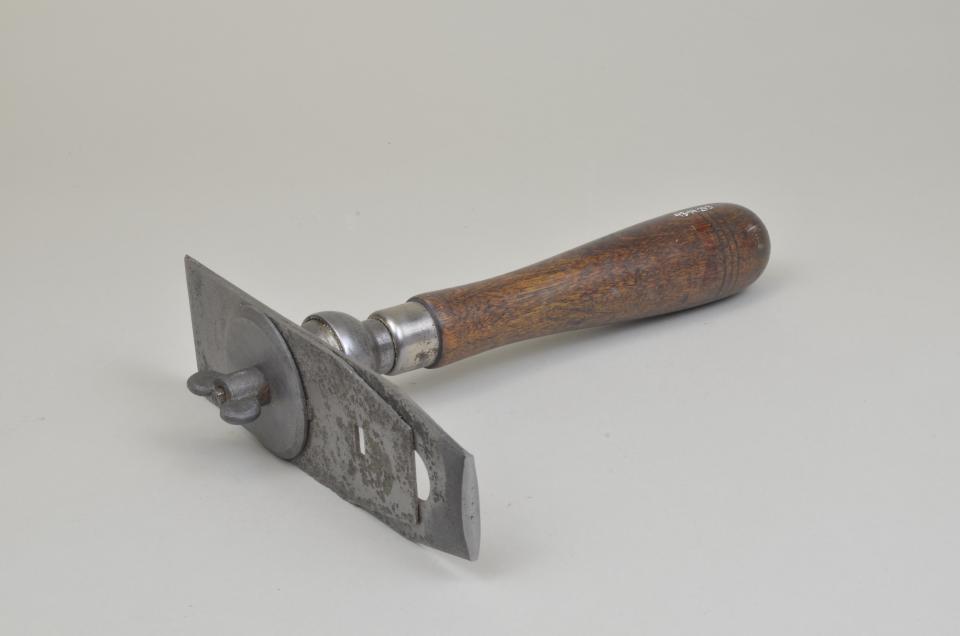 Object Name
Scraper, Cabinet
Artist/Maker
Sargent & Co.
Catalogue Number
93-14.293
Dimensions
L: 16.0cm W: 5.0cm H: 24.2cm
Description
A hand-held wood scraper made of wood and metal. The handle is made of a dark brown hardwood with a circular section. It is wider at the top and tapers toward the scraper. There is a metal joint resembling a ball bearing between the handle and the scraper. The scraper itself is composed of two wide irons set together so their cutting edges form a wedge. They are both rectangular with chamfered top corners. The bottom iron is shorter than the top. The top iron has a stamp that reads "SARGENT & Co. / U.S.A. / NEW HAVEN, CT.". The irons are secured to the handle by a screw and a large wing nut.
History
A cabinet scraper is a hand-held scraper with an angled blade. The position of the blade allows workers to reach into difficult spaces, like the bottoms of cabinets. This model has a swivel head, so the angle of the blade can be adjusted. The blade highly resembles the iron found in a bench plane.