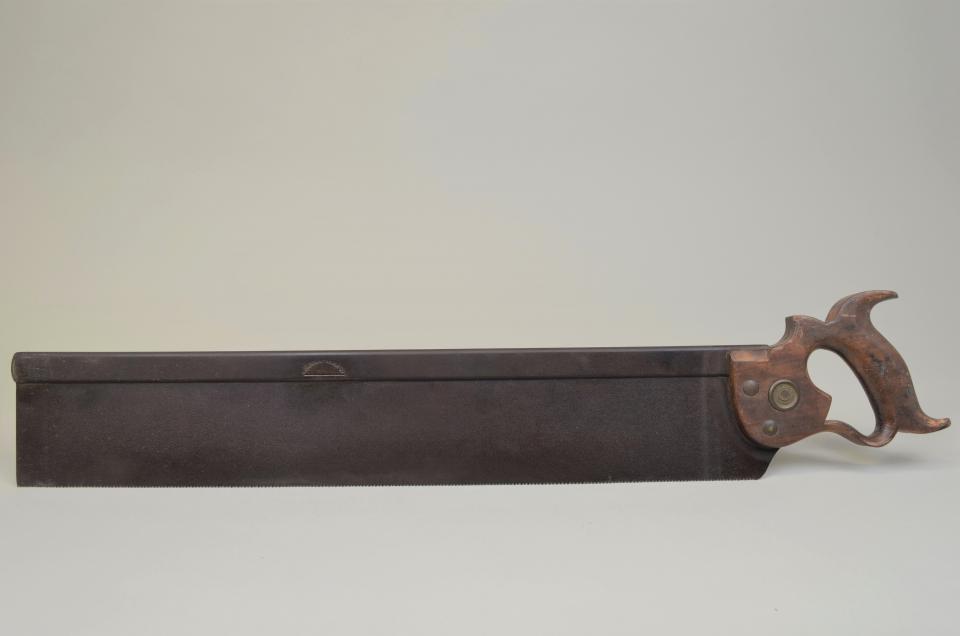 Object Name
Saw, Miter-Box
Artist/Maker
Langdon Mitre Box Co.
Catalogue Number
86-05.47
Dimensions
L: 73.4cm W: 2.2cm H: 15.3cm
Description
A metal and wood backsaw made by Langdon Mitre Box Co. It is believed to be model No. 22.
The wooden handle is a closed pistol-grip handle with 2 horns. A metal medallion embedded in the cheek reads "WARRANTED/SUPERIOR". The blade is made of a dark metal and is rectangular. The top edge of the blade is reinforced with a thick metal bar. The bar is stamped with the words "LANGDON MITRE BOX CO/MILLERS FALLS MASS". The blade has a plain tooth pattern with alternating heights. There are 10 teeth per inch (TPI).
History
Backsaws are handheld saws used for delicate work. They are often paired with a mitre box, which frames the blade while working and stops it from deviating. Backsaws are often used to cut dovetail joints, mitre joints or tenons.