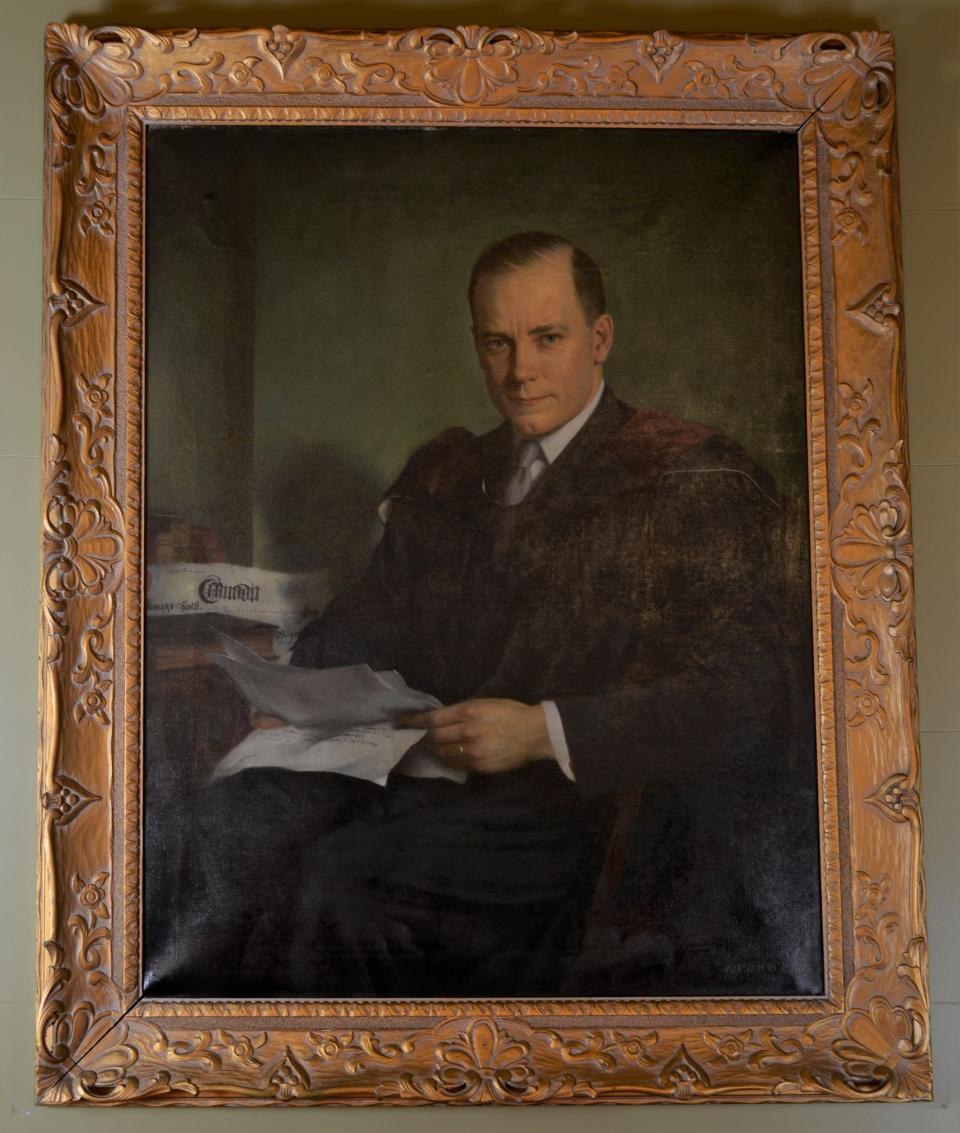 Object Title
Portrait of Norman McLeod Rogers
Artist/Maker
Kenneth Forbes
Materials
Oil on Canvas --Wood
Eminent Figure
Norman McLeod Rogers
Catalogue Number
2007.021.052
Dimensions
H 151.5 cm x W 126.0 cm x D 15.0 cm
Description
A 3/4 length portrait of Norman McLeod Rogers seated in a wooden armchair, facing slightly to the left, looking directly at the viewer. He is wearing a long academic robe with maroon panels on the hood, over a dark suit with a pale grey tie. He sits with his elbows on the arm of the chair and he is holding a sheaf of papers in both hands above his lap. His left hand is to the front of the picture plane, and he has a signet ring on his right finger. The figure has short brown hair and blue eyes, and is clean-shaven. To the sitter's right, in the background, is a desk / table with books and a document on it. The remainder of the background is the corner section of a green wall. The painting is signed "K. FORBES. / 1941" in orange-red paint in the lower right corner.
The painting is housed in a mid 20th century gilt carved wood frame. Plain back edge, wave pattern bead, astragal, cover outside edge to gadrooned top edge; anthemion corners and centres, foliate elements on chiseled ground with swept rail; narrow sanded frieze, lamb's tongue sight edge.
History
Educated at Acadia and Oxford, Rogers interrupted his studies to serve in the First World War. He became professor of history at Acadia in 1922 and then Prime Minister William Lyon Mackenzie King's private secretary; he later wrote King's biography. Rogers became a political science professor at Queen's in 1929. Elected to Parliament for Kingston in 1935, he became minister of labour and the leading progressive liberal in the Cabinet. Appointed minister of national defence in 1939, he died the next year in a plane crash. Kingston's Norman Rogers Airport is a former Second World War aircraft-training base.