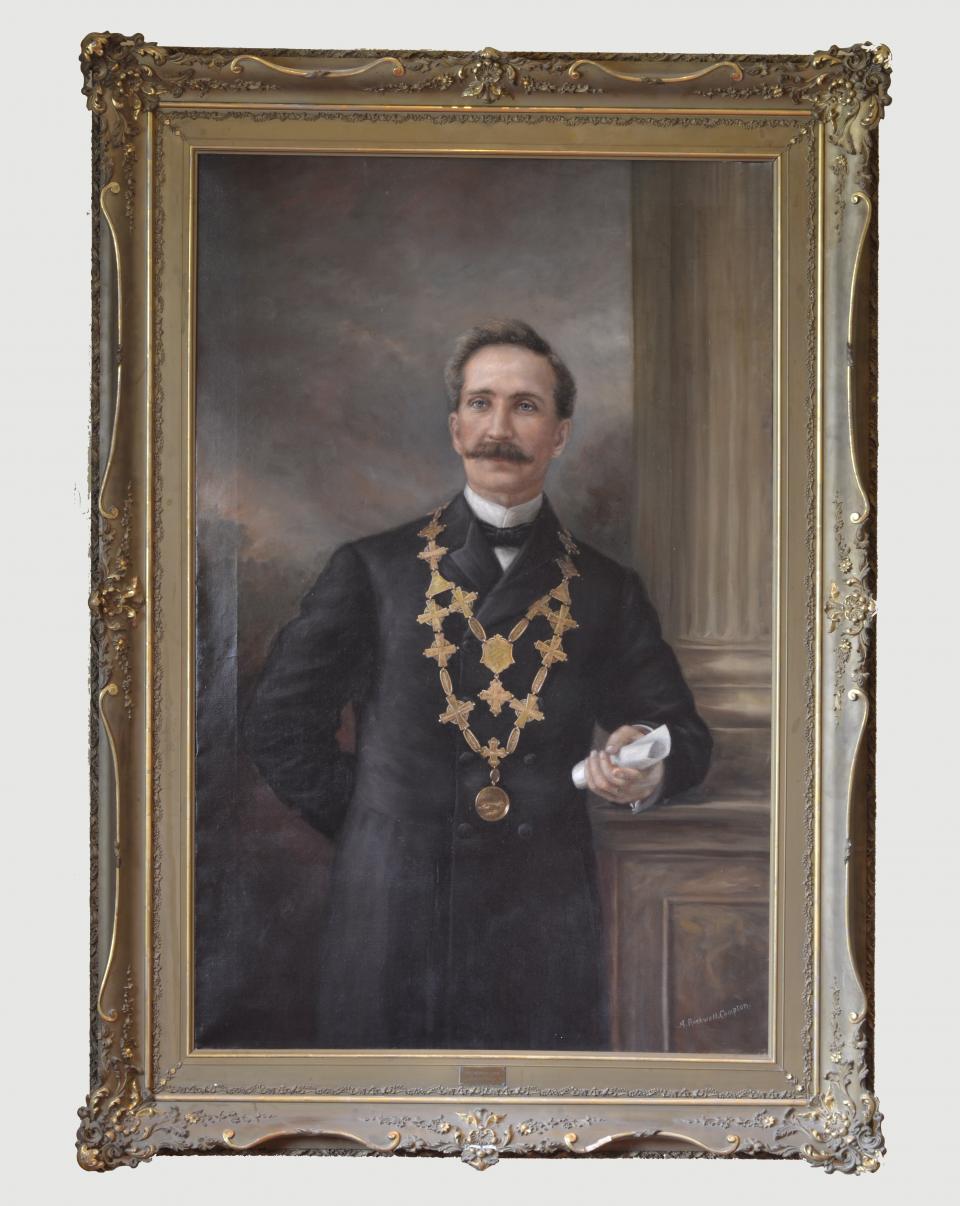 Object Title
Portrait of Robert Newton Frederick MacFarlane
Artist/Maker
Anna Rockwell Compton
Materials
Oil on Canvas --Wood
Eminent Figure
Robert Newton Frederick McFarlane
Catalogue Number
2007.021.036
Dimensions
Artwork Height 140.97 cm es, Width 91.44 cm es, Frame Height 177.8 cm es, Width 124.46 cm es, Depth 15.24 cm
Description
A 3/4 length portrait of Robert Newton Frederick McFarlane. The subject is facing almost directly forward, with his right arm behind his back, and his left elbow resting on the base of a pillar and his left hand forward and loosely holding a rolled piece of paper. The figure has short grey-brown hair, a brown moustache with slightly curled ends, and blue eyes looking over the viewer's left shoulder. The subject wears a long dark double-breasted coat, a white shirt with a stand-up collar, and a narrow black bowtie beneath the coat's collar. He wears a gold double chain of office with a round pendant medallion at the bottom, and several other medallions on each of the two rows. On the right of the composition is a fluted pillar resting on a square base with a low relief sculpture; on the left of the composition is an indistinct landscape background with the suggestions of a classical structure, trees, and a cloudy sky in dark streaked grey. The painting is signed "A. Rockwell Compton" in white paint in the lower right corner.
The painting is housed in an early 20th century gilt wood and plaster frame. Plain back edge; oak motif outer edge, plain deep scotia; large gadrooned palmette corners with floral garland on plain swept rail top edge, with anthemion (honeysuckle) and floral garland centres; astragal, floral garland bead with corner extensions to centre, plain frieze, plain bead, astragal and cove to sight edge.
History
Born in Pittsburgh Township, McFarlane was a Kingston-based tradesman and businessman. He was a carpenter and prominent general contractor and at one time owned a livery stable and hardware store. McFarlane's public contributions included serving as alderman, mayor and as a member of the Public Utilities Commission for 16 years, 10 of those as chairman. He was an influential member of local sporting clubs: as president of the curling club, McFarlane promoted the installation of artificial ice.